If you are a beginner and have been wondering how to publish an indicator on TradingView, then read on!
I have prepared this visual guide to help you out in publishing your very first script/indicator on TradingView. Just type in your code, provide a decent heading, write a meaningful description explaining how your script is original, and just publish. Easy, right? Let's delve into this process!
A step-by-step guide on how to publish an indicator on TradingView:
1. When you open TradingView, you will find an option called "Chart". As soon as you click it, it will redirect you to a blank chart template.

2. The blank chart will look something similar to the chart below. At the bottom of the screen, you will see a toolbar with various options. Click on "Pine Editor". It will open a blank notepad type of page, on which you are supposed to write the code using the Pine script.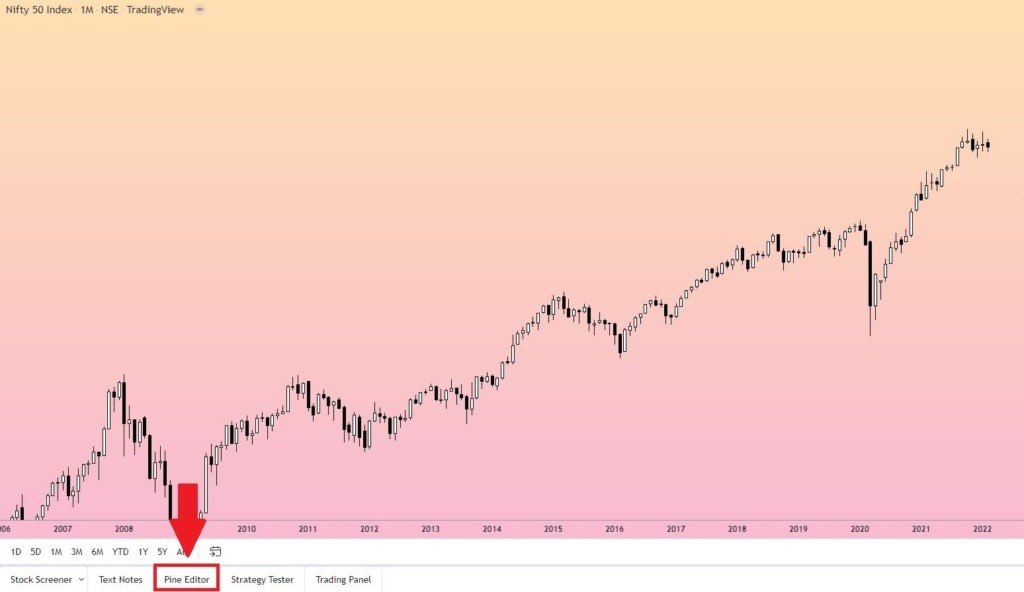 3. When you are done writing your code, click on the "Publish script" option at the top-right of the notepad. It will lead to a form similar to the one that comes at the time of posting ideas/charts.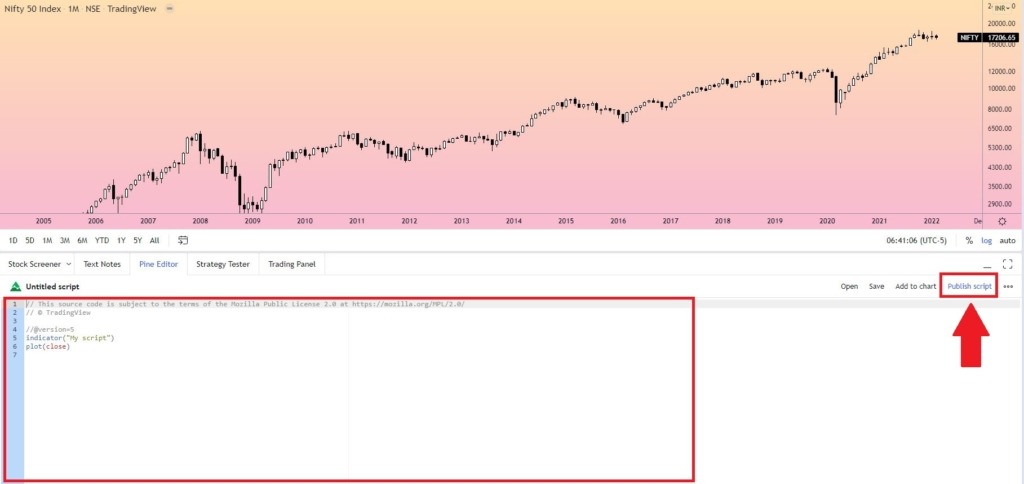 4. In this form, you need to provide the following things:

a) Privacy Settings
You have the opportunity to publish both public and private ideas and scripts on TradingView.
i) Public – Your publication will be visible to all and included in the community scripts section of TradingView.
ii) Private – Your publication will only be visible to you and those with whom you share its link.
b) Visibility
i) Open – Your source code will be visible to everyone. They can favorite the script, apply it to a chart and see or clone the source code.
ii) Protected – Every user can add this script to the chart or favorites, but only the author can see the source code.
iii) Invite-Only – Nobody can add it to a chart without explicit permission from the author and only the author can see the source code. Please note that Invite-Only script publishing is available to Premium users only. Additionally, authors can choose to manage who can access their scripts. You can publish any of these types of scripts both publicly and privately.
c) Category
What is the type of your indicator? Is it based on bands and channels or is it a breadth indicator, or is it an oscillator? There are plenty of categories to choose from.
d) Tags – Provide a few relevant tags for your scripts.
e) Rules – Check the box which affirms that you abide by the house rules of TradingView.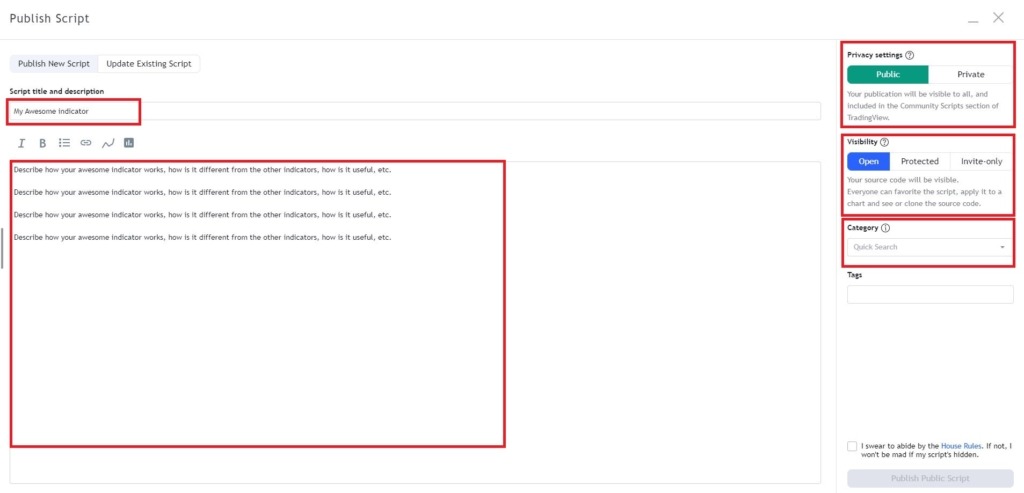 5. After doing all of the above, you just need to click "Publish Script".
Voila! You just published your first idea on TradingView.
Note: Ideas/scripts once published, cannot be edited/deleted after 15 minutes of publishing. Hence, if you make some mistakes, be sure to rectify them within 15 minutes.
A few important rules that you should keep in mind before you publish an indicator on TradingView:
These rules apply to all public scripts on TradingView. Keep in mind that TradingView's general house rules apply to script authors, in addition to these.
Script visibility
Users of all types of accounts on TradingView can publish scripts publicly or privately. Regardless of the private/public visibility, you choose for your script, you can use any source or access control publication mode allowed by your type of account: open-source, protected, or invite-only.
Private scripts
Private Scripts are not moderated and are invisible to everyone but you. If you choose to publish privately, you must also accept that those publications must be incognito elsewhere on TradingView. You are not allowed to refer or link to them from any public TradingView content. You can share private publications with friends or customers by sending them the link to your script, which you can get by opening your script's page and copying its URL from your browser.
Public scripts
Public scripts appear in TradingView's Public Library, where they become visible to the millions of TradingView users and any Internet user who has access to its link. Because they are public, these scripts must meet the requirements mentioned under the following image.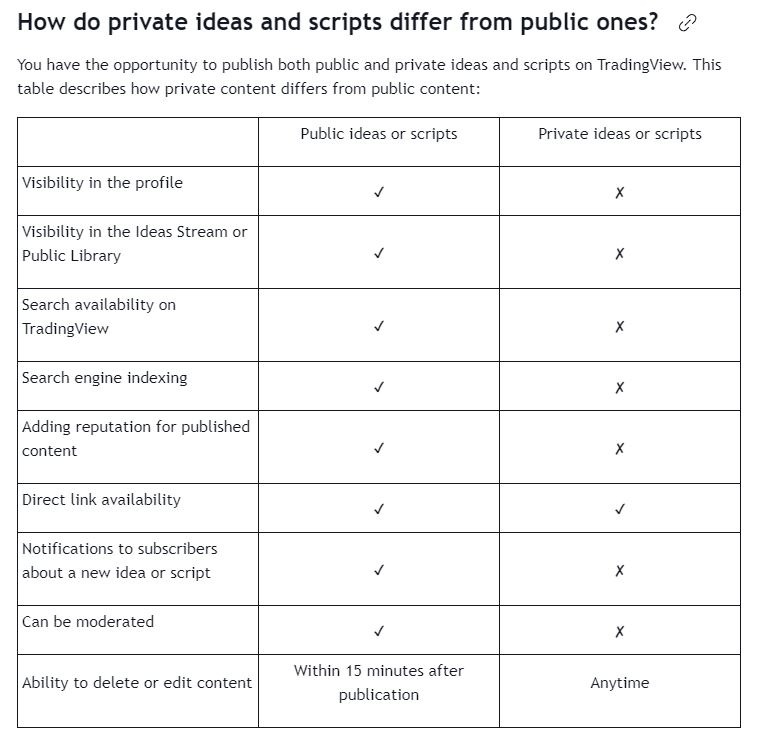 Language
The Public Library is common to all language versions of TradingView. In order for all members to benefit from all published scripts, English must be predominant. Titles must be English-only. Other languages are welcome in descriptions, but English must appear first.
Originality and usefulness
Your script's description is your opportunity to explain to the community how it is original and can be useful. If your description does not allow TradingView moderators to understand how your script is original and potentially useful, it will be moderated. Rehashing of old ideas, slight color changes, different combinations of MAs, or a slightly modified version of a popular indicator like WaveTrend are not considered useful.
Description
Write a detailed and meaningful description that allows traders to understand how your script is original, what it does, how it does it, and how to use it. Give traders an idea of the concepts underlying your calculations. Mentioning only that your script follows trends or is intended for scalping does not help traders much; it will be more useful to traders if you also give them an idea of which of the hundreds of trend-detection or scalping methods you use.
I hope you have understood how to publish an indicator on TradingView. If you ever need help, be sure to contact TradingView support.
Important links: