If you are a beginner and have been wondering how to publish an idea on TradingView, then read this simple step-by-step guide and get a full understanding of how posting on TV really works!
I have prepared this visual guide to help out the awesome new users of TradingView. A lot of you are not aware but TradingView provides you a facility to share your charts with a wholesome community. All you have to do is just mark your chart, give it an awesome heading, write a good description and just publish. Easy, right? Let's delve deeper into this process!
A step-by-step guide on how to publish an idea on TradingView:
1. When you open TradingView, you will find an option called "Chart". As soon as you click it, it will redirect you to a blank chart template.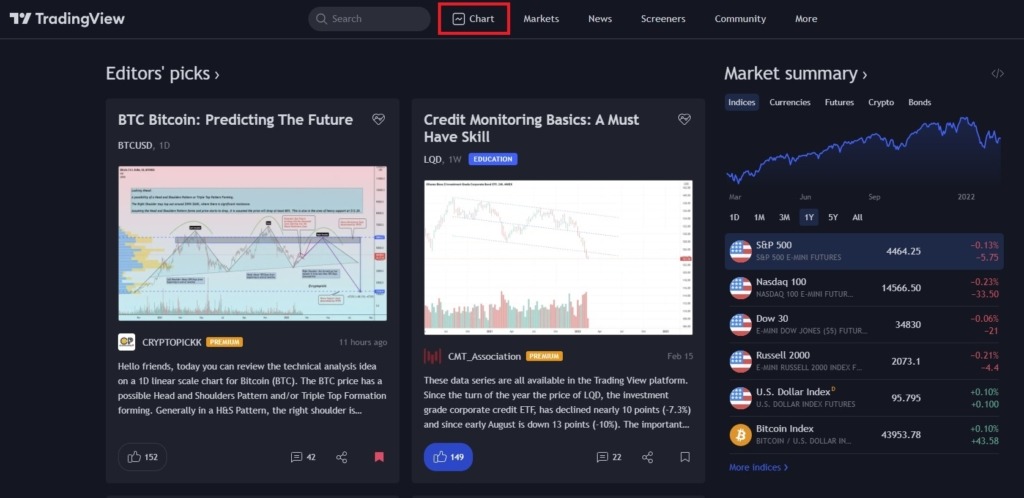 2. The blank chart will look something similar to the chart below. On the top-left-hand corner, you will see the "Scrip name" of the current scrip that you are checking.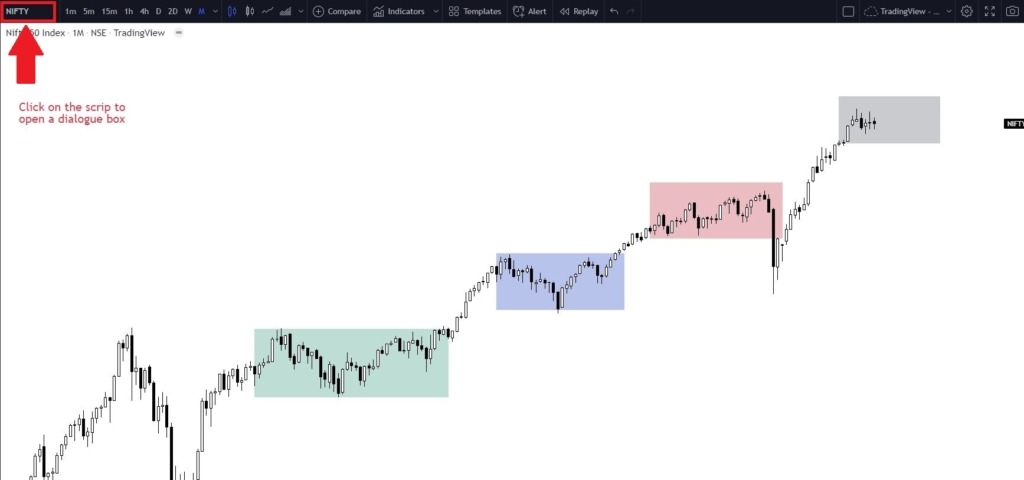 3. Click on the "scrip name" and find the symbol that you like to see the chart of. Easy right?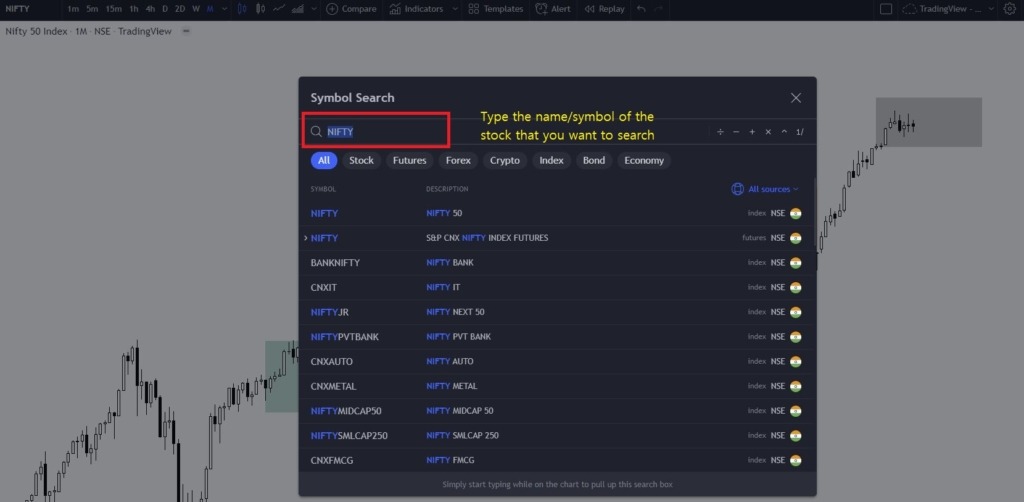 4. You can now mark whatever you feel like as per your trading system. In general, you can mark different levels/zones of support, resistance, demand, supply, patterns, etc.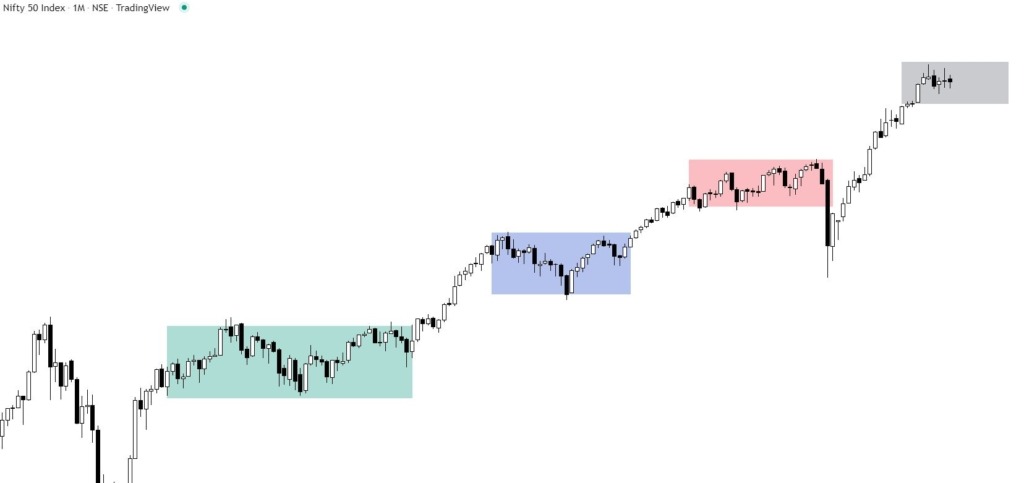 5. After marking all the levels, click on the "Publish" button shown at the top-right corner of the screen. It will redirect you to a blank form that you need to fill out.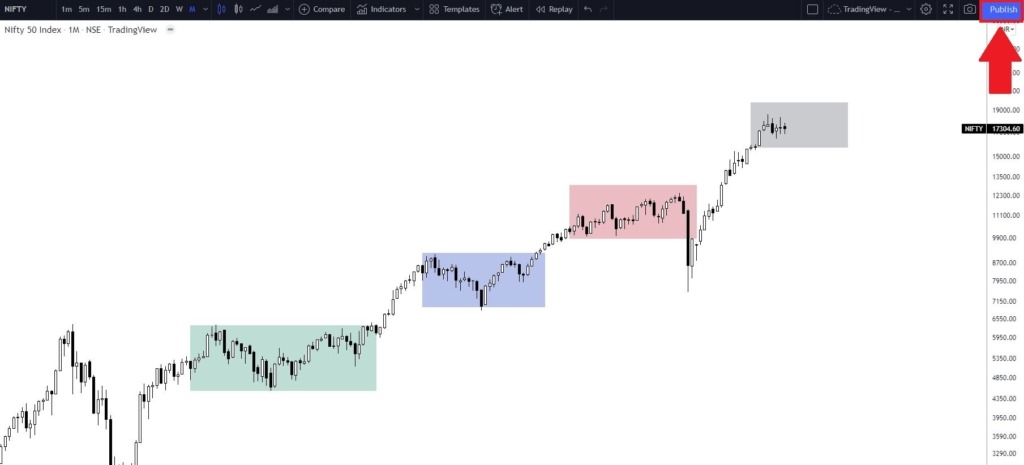 6. In this form, you need to provide the following things.
a) Title – A title for your idea
b) Description – A meaningful description explaining your idea so that others can understand from your perspective.
c) Choose the type of idea – Analysis or Tutorial. An analysis is an idea about a specific stock at a given point in time whereas a tutorial can be a generic idea regarding educational things related to trading or TraingView.
d) Privacy settings – If you want to share your ideas with the community, you need to select the "Public" option. Else if you just want to keep the idea to yourself as a reference or a journal, you can select the "Private" option.
e) Category – Select the basis for your analysis using the options given in the category slab.
f) Investment strategy – Whether you are bullish, bearish, or neutral on the stock.
g) Share – You can check the share box if you want to share your post on Twitter as well.
h) Tags – Provide a few relevant tags for your idea.
i) Rules – Check the box which affirms that you abide by the house rules of TradingView.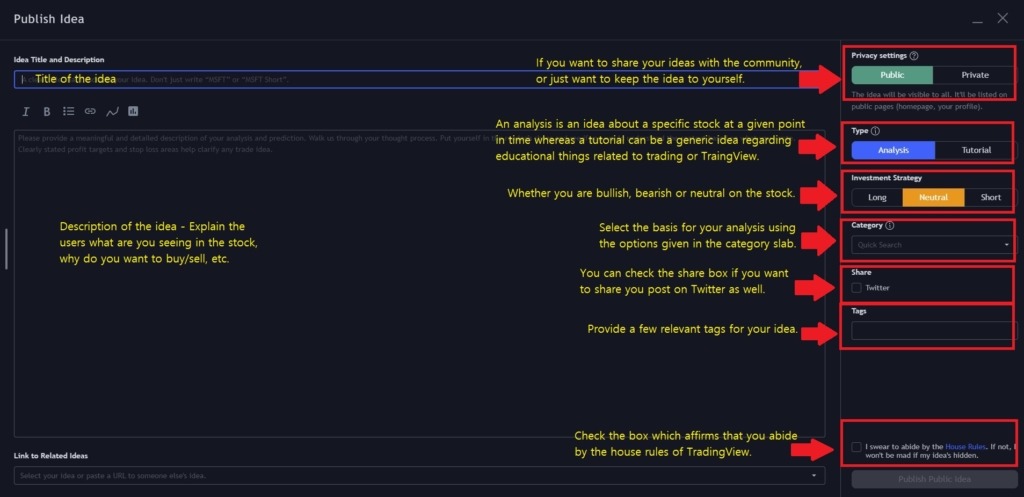 7. After doing all of the above, you just need to click "Publish Idea".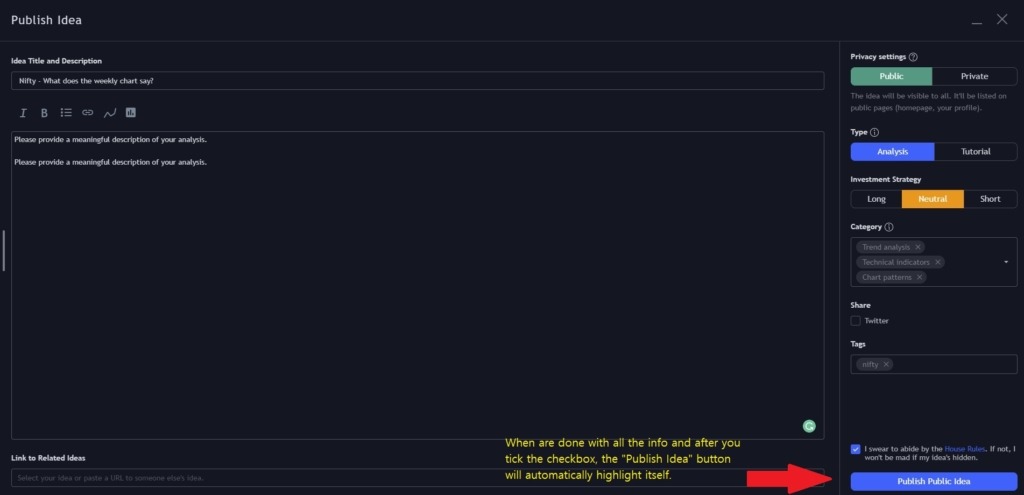 Voila! You just published your first idea on TradingView.
Note: Ideas once published, cannot be edited/deleted after 15 minutes of publishing. Hence, if you make some mistakes, be sure to rectify them within 15 minutes.
A few important rules that you should keep in mind before you publish an idea on TradingView?
1. Make ideas understandable.
When publishing content, make sure to write an easy-to-read title and a thoughtful description so that everyone can get the gist of your published work and the reasoning behind it.
2. All content should be ad-free.
Any advertisement such as logos, links, or references to any website, social media, messaging or email contacts, company names, or wallet addresses, will invite action from the moderators. All content has to be free from promotion.
3. Publish in the same language as the site you're on.
Writing in one language when the audience reads in another is just a waste of time and energy, so please make sure to stick to the language of the TradingView subdomain you're on. If you'd like to publish or chat in another tongue, please click on the language selector in the top bar menu and select the desired dialect.
Check out the house rules of TradingView here: https://in.tradingview.com/house-rules/
Thanks for reading! Hope this was helpful!
Important links: