"Trapped breakout traders" – you may have already heard of this term plenty of times. But If you haven't, just read on and you'll understand who are these breakout traders and how can you avoid getting trapped.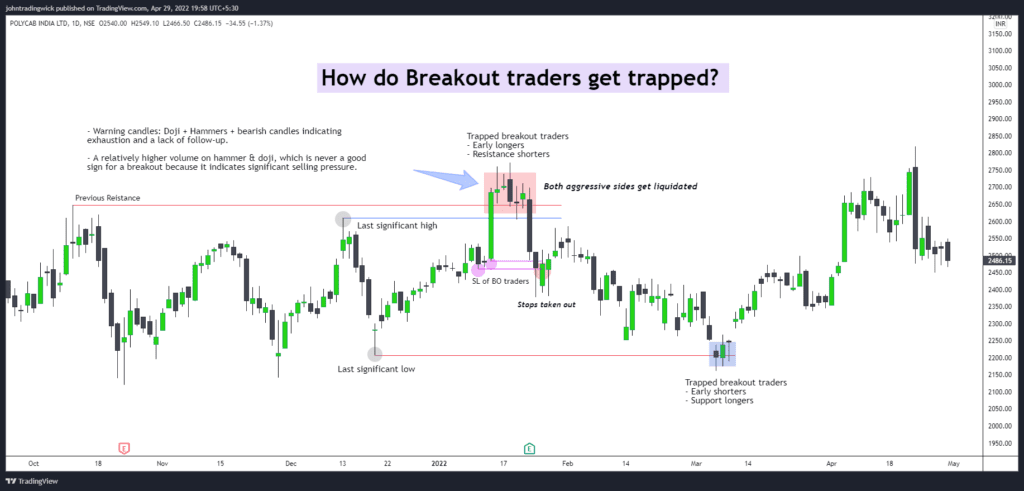 To understand the concept of trapped breakout traders, you need to understand the example above. Notice the following:
– Warning candles: Doji + Hammers + bearish candles indicating exhaustion and a lack of follow-up.
– A relatively higher volume on hammer & doji, which is never a good sign for a breakout because it indicates significant selling pressure.
– A bullish breakout must always be accompanied by a good follow-up, else it won't sustain. Bullish BO needs good bullish candles, NOT dojis.
Notice how a small wick (on the daily chart ) looks like a clear liquidity hunt on lower time frames.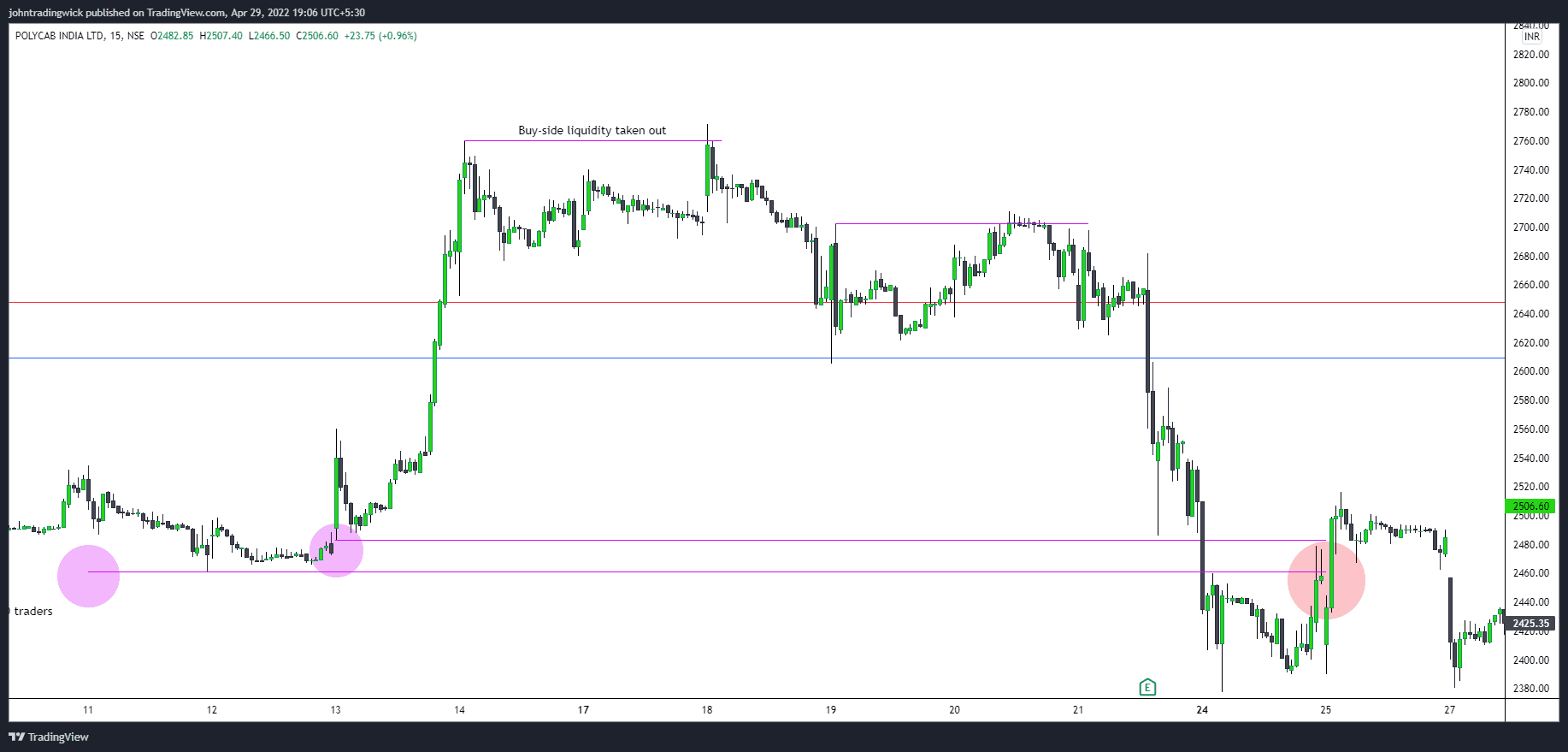 Underlying concepts:
1. The market was moving sideways and generating liquidity on both sides.
2. In general, when the market is ranging, different participants place orders with a different bias. Hence, there is liquidity on both sides.
3. For a bullish market, the price must form a series of higher highs and higher lows. Similarly, for a bearish market, the price must form a series of lower highs and lower lows.
4. Whenever the price reaches a resistance level, there are 2 types of traders that take positions:
– Those who short the level in anticipation of it acting as a resistance.
– Those who long early in anticipation of resistance being taken out.
5. The stop losses of these traders act as liquidity. A short position has a "buy order" as SL, whereas a long position has a "sell order" as SL. Hence, these trapped breakout traders act as liquidity for the counterparty.
6. In general, almost everyone is aware of how the retail participants place their stop losses. They are either:
– Above/below an important swing level such as a support, resistance, day high, day low, etc.
– Above/below a demand, supply candle.
– Above/below the candlestick pattern such as a shooting star, hammer, and doji.
– Above/below the charting pattern.
7. The market moves from one zone of liquidity to another.
8. As a retailer, you may not realize the importance of a small wick. The small wicks are more than enough to liquidate plenty of positions.
Psychology and Behind the scenes stuff:
1. When the price reached the resistance level, 2 types of traders started opening positions.
– Aggressive shorters who shorted in anticipation that the level will hold.
– Aggressive longers (those who don't wait for confirmation) who were waiting for the candle to close above the resistance (trapped breakout traders).
2. Both of these traders opened their positions and placed their stop losses in the system.
3. The banks/institutions have fairly complex algorithms that can easily identify these positions.
4. The stops of these aggressive participants are taken out fairly easily and the market moves from one zone of liquidity to another.
You may have gained some insight as to how to benefit from these trapped breakout orders and how these trapped Breakout traders act as exit liquidity for big players.
Thanks for reading! Hope this was helpful.
Important links: